PEOPLE MAGAZINE JUNE 2013

"A good powerful voice. He's great!"
Ringo Starr
"Eric is a terrific writer and singer and deserves to be heard."
Peter Frampton
"I love his songs so much."
Jack Bruce, Cream
"Eric's songs and music have a great combination of toughness and warmth. This heartfelt music makes it easy to take the whole ride. Good stuff!"
Nils Lofgren, The E Street Band
"Intelligent lyrics that aren't beyond being catchy – hauntingly melodic – unusual. I'm glad he's with us (BMI)."
Del Bryant, President BMI
"I always make it a point to go out front and check out the opening act when I'm on tour, and never have I seen such sincere appreciation for an unknown act. Usually the openers get polite applause, but Eric was always received…exuberantly. That happened every show and it never ceased to amaze me."
John Regan, bassist Peter Frampton
"Eric Stuart has been making great music for awhile now but his latest effort, Lipstick And Barbed Wire, brings it to an entirely new level of showcasing his voice, attitude, and songwriting in completely new ways."
Michael Solomon, Partner, Brick Wall Management
Frampton's opening act, Eric Stuart, started the show with a bang. The Brooklyn native and his three band members delivered an exceptional 40-minute set of straight-ahead, blue-collar rockers in the Springsteen mold (minus the sax.) Watch for Stuart and his band to be headliners down the road.
Tim Miller, Entertainment Editor, The Cape Cod Times.
"This band has a helluva kick to it! You are going to love them."
Marsha Gann, WXRA 94.5 FM (Winston-Salem, NC)
"Eric Stuart will be at the forefront when guitar driven rock comes back again. This is someone that'll be around for a long time."
Brooklyn Bridge Magazine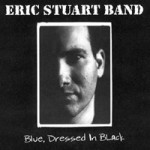 ERIC STUART BAND
Blue, Dressed In Black
(Widow's Peak)
The days as being 'the best known, hardest working unsigned act around' may soon be coming to a happy outcome for singer songwriter Eric Stuart. The Brooklyn-born rocker who made quite a few music fans very happy with the release of his recent four song demo CD gets closer to the flame with the release of his latest full length disc entitled Blue, Dressed In Black, Co-produced by U.K. rock guitar great Peter Frampton, John Regan Harvey Jay Goldberg, the CD serves up a dozen tracks that perfectly capture the essence of Stuart's songwriting gifts. Stuart lists Buddy Holly, Presley, Springsteen and Cat Stevens as big influences and upon hearing Blue, Dressed In Black it's obvious that Stuart not only absorbed these influences, but has blended them together to create a distinctive songwriting and vocal style all his own. Stuart and Co. rock the house on album highlights like "Staring You In The Face" and "Hole In The Head", while deeper, probing songs like "Corner Booth Chronicles" nad "Lost Innocence" deliver the goods with searing intensity. Like Bruce Springsteen, Stuart knows how to wring every once of emotion out of a song and he skillfully proves it on Blue, Dressed In Black. Assisting Stuart are some fine players including guitarists Peter Frampton, Ben Mauro, Mason Swearingen (Bass) and Questar Welsh along with drumming ace Eddie Bayers.
Robert Silverstein
20th Century Guitar Magazine/June 2000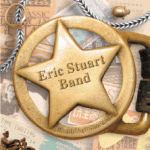 ERIC STUART BAND
BombShellshocked
(Rev-Up)
Praised early on by rock legend Peter Frampton – who also produced his 2001 album Blue, Dressed In Black-NYC singer-songwriter Eric Stuart has finally released his long awaited new album. Packed with ten powerful tracks, the release of BombShellShocked on the newly established RevUp Records is clearly among the major CD releases of 2003. A winner of the coveted John Lennon Songwriting Award, Stuart stakes out a unique musical terrain of his own BombShellShocked. Solid examples of his expressive Songwriting on songs like "Revelation' and 'The Second Time Around' are as good as it gets and, supported by fine players like Phil Nix (guitars), Kevin Merritt (keyboards), Eric Stuart continues to refine his songwriting craft.
20th Century Guitar Magazine Record Review
by Robert Silverstein/July 2003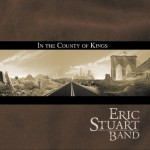 ERIC STUART BAND
In The County Of Kings (Widow's Peak)
In the Spirit of Bruce Springsteen, Johnny Cash and John Fogerty before him, Brooklyn Based singer-songwriter Eric Stuart delivers his songs as messages with lyrics up front and shelters them with memorable pop hooks. As good as Stuart's earlier albums were, his 2007 CD release, In The County of Kings is his best yet. When questioned about the CD title, Stuart claims, 'Songs with stories and relationships that every listener can relate to are what I strive to write. I try to be honest with my music. This title allowed me to be true to who I am while playing music you wouldn't expect from a Brooklyn boy. When asked what kind of music is on this album I have come up with a genre of my own, I say it's "Concrete Country." That was almost the title.' Produced by Stuart and long time accomplice/guitarist Questar Welsh, the fifteen track In The County of Kings features lots of great players including top guitarist Phil Nix.
Robert Silverstein
TCG Record Review
20th Century Guitar Magazine
September 2007
WIDOW'S PEAK RECORDS – Not to be confused with Eric Stewart of 10cc fame, Brooklyn native, singer-songwriter Eric Stuart released Lipstick & Barbed Wire in 2014. The NYC native, who was championed in the late 1990's by Ringo Starr and Peter Frampton, released In The Country Of Kings in 2007 and hard to believe it's been 7 years but Lipstick & Barbed Wire is nothing less than totally rocking. Although by now he's certainly more cutting edge than Bruce Springsteen, Stuart also adds in a definite pop edge in his rock & roll sound. On Lipstick & Barbed Wire, Eric is joined by a solid band, including long time guitarist Phil Nix, with Peter Frampton appearing on a track here as well. In the spirit of Ringo, Springsteen and Fogerty before him, Eric Stuart is simply riveting when he's really on and there's plenty of sonic ammo on his 2014 release.
Robert Silverstein
MUSICWEB EXPRESS Sept. 2014
20th CENTURY GUITAR MAGAZINE

Peter Frampton was in New York last week and he invited us down to a showcase for a performer he has been working with, and in fact, is producing. Eric Stuart is a singer/songwriter who you may of heard of if you saw last year's Ringo's All-Starr tour. Eric opened under the most strenuous circumstances, playing before a crowd of people awaiting the arrival of Ringo, Jack Bruce, Frampton, and Gary Brooker. Not an enviable position but one Stuart handled quite nicely. I must confess, I too was one of those in the audience not giving the opening performer a fair shake as well I was anxious to see the All-Starrs. However, it turns out that was my loss for Stuart's performance the other night was nothing short of sensational. His songs are loaded with melody, the lyrics meaningful, sometimes ironic and often funny and the band, which I later found out had only been together about a month, was as tight and professional as any you're going to hear. Eric has toured all over the country opening for major acts as he puts it "I'm probably the best known, unsigned act around". If he comes around to your neighborhood, take the time to see him. Also, write your congressman, this guy should have a contract.
THE BROOKLYN PAPER
When Eric Stuart was growing up, he'd hear artists like The Beatles, Cream, and Peter Frampton on the radio. He never imagined that he'd one day he'd share the bill with some of those legendary players-let alone have them champion his music.
But in the past few years, that's exactly what's happened for the singer/songwriter from Cobble Hill.
In 1997, Stuart's manager heard that Ringo Starr has looking for a singer-acoustic guitarist to open eight dates on the All-Starr Band's northwest tour. The former Beatle made it clear that he only wanted to hear simple acoustic demos, so Stuart recorded a few songs in his Clinton Street apartment, playing guitar and singing into a portable cassette recorder.
Starr heard the tape, liked it and invited Stuart to start the tour with them. After just a few gigs, the opening act won over the headliner's-"He's Great," Starr was heard to exclaim -and was invited to complete the rest of the 28-date tour.
"It took a while for them to let me into their little circle." says Stuart "Every night I would tell the audience what an honor it was to be on the same stage as Ringo and his band (which comprised, among others, Jack Bruce of Cream and '70s superstar Peter Frampton). I guess after awhile they believed I meant it."
The tour lead to another road trip-opening for Lynyrd Skynyrd-and a profession relationship with Frampton.
"I'd heard that Peter was looking for projects to produce, and so I called him and asked him if he would be interested in working with me." The veteran guitarist, who shot to super stardom in the mid 70s with the landmark album "Frampton Comes Alive," was enthusiastic and the two men met in Nashville, where Frampton now lives.
"We spoke about our ideas and what we were both looking to achieve," says Stuart. "We got along really well and that's what really clinched it."
Backed by a group of top-flight Nashville Cats, plus some stellar guitar playing by his famous producer, Stuart cut six songs in Nashville. "More than even the advice he's given me about how the business works, Peter's given me the confidence to stick to my guns and do the kinds of music I believe in," says Stuart. "He truly believes that sooner or later somebody's gonna go for it."
Judging by the four-song Frampton -produced CD that Stuart's handlers are shopping to record labels, it's surprising that no one has yet decided to "go for it." Stuart's sound is radio-friendly, somewhat reminiscent of Dave Mathews or Hootie and the Blowfish, with story-and message-songs that boast strong hooks, thoughtful lyrics and expressive vocals.
While he may be without a record deal, Stuart's got what most up-and-comers would kill for-the support of several rock legends and a wealth of touring experience. AT Stuart's recent Mercury Lounge gig, Peter Frampton joined him onstage for a song. Calculating all the tours he's done in the past few years (he's also opened for Hall and Oates and Jethro Tull) Stuart estimates he's played for half a million people.
"As a musician it was probably the most incredible experience to reach that many people at once and feel the roar of the crowd coming back at you, once I'd won them over," he says.
In a business of long shots, Stuart is patiently optimistic that his efforts will pay off, as is Frampton, who after the Mercury Lounge gig told his protege, "You've got it!" But he keeps his perspective focused, knowing it;s the quality of his material and the feedback from the fans that really matter.
"I write what I think I would enjoy listening to and hopefully people will connect to it also," he says.
One of Stuart's crowd-pleasing originals is "Home," a touching song of patience rewarded and family reunited after several years."After my gigs people would come up to me telling me that the song was their story, that it made them cry," he says. "To me, that's what being a songwriter is all about."
Richard Younger/The Brooklyn Paper
THE COBBLE HILL PAPER
Eric Stuart Comes Alive/Cobble Hill Rocker Receives Career Boost From Peter Frampton 
A seventh-grade music class at Saint Ann's School in Brooklyn Heights launched a shy guitar player on a quest for rock and roll stardom. Eric Stuart hasn't made it yet, but along the way he's criss-crossed the country as an opening act for legendary performers as Ringo Starr, Lynyrd Skynyrd, Chicago and Jethro Tull.
Mike Fogarty, his instructor, was a frazzled, out-of-work musician who decided to transform his class into a band, and to hell with teaching scales by rote. Each student chose an instrument, and Fogarty taught the nascent rockers to play compositions by the Who and the Rolling Stones.
"When the summer came, we wanted to keep playing as a band," says Stuart, who has lost track of Fogarty, a Saint Ann's instructor for just one year. "We asked him to teach us more rock and roll songs so we would actually have a full set of music. We played covers of '60s songs and two original tunes."
The precocious 13- and 14-year-olds christened their outfit the Front, after the Woody Allen movie, and made their debut a few months later at Clark Street Station. The bar was packed with soda-guzzling and hamburger chomping teenagers, but only after three gigs, the group broke up. It seems the lead singer could'nt remember the song lyrics.
Stuart, however, found a life. "Once I was introduced to the stage," says the clean-cut rocker, "that was it."
The 31-year-old singer/songwriter-a liflong Cobble Hill resident whose father is a Court Street lawyer and whose mother is chair of Long Island University's dance department-recently put out a promotion four-song CD, which was produced by his mentor, Peter Frampton.
After 15 years of writing acres of songs and performing for tough-to-please crowds at downtown Manhattan clubs, he would appear to be-to paraphrase an Elvis Costello lyric-a whisper from his life's dream of a recording contract.
Since seventh grade, Stuart has been obsessively dedicated to creating powerful music. After the Front broke up, he discovered a recording studio on Montague Street and began experimenting with laying down his own copositions. Eager to perform live, he searched for like-minded classmates to form a band, but most lacked his let's-do-it-right seriousness.
He went out on his own, occasionally playing with two other acoustic guitar players. "I started when I was about seventeen years old and I played the New York scene for years," he says. "That's where most of my growning up was, playing the Mercury Lounge, Kenny's Castaways, the Lion's Den."
He briefly attended college in Washington, D.C., but dropped out to return to writing and performing his music in New York. In 1995, he nudged closer to recognition when he was chosen to open for Chicago. In that instant, the average size of his audience went from 30 to 10,000 people. "They liked what they heard," says the rarely boastful Stuart.
After his success with Chicago, other classic rock acts called on Stuart to warm up their audiences. In the summer of 1997, while opening for Ringo Starr and His All-Starr Band-which included veterans of Cream, Procol Harum and Bad Company-he befriended '70s rock icon Peter Frampton, who was part of the troupe and has since become preeminent in the young musician's musical development. The two talked about collaborating on a project. Frampton wanted to try his hand at producing, and Stuart wanted to record a CD to shop to labels.
Thus the eager kid from Congress Street and former teen idol settled into a Nashville studio, in early 1998, to put down four tracks.
The batch of songs has done well on the Internet-they are posted on www.ericstuart.com-and, oddly enough, in North Caolina. Four Ashville-area radio stations have been playing his "Staring You In The Face" to enthusiastic response. The ever-optomistic singer ever on the verge continues to focus on writing new songs and securing a contract for a full album.
But even if record labels decide he isn't the next big thing, Stuart's already traveled an impressive distance from Mr. Fogary's seventh-grade class.
"When you go backstage after a show and Ringo Starr says to you, "Great show,' it's unbelievable," he says, unabashedly starstruck. "You're thinking, 'A Beatle just told me I played a great show.'"
Peter Duffy/Brooklyn
NEWSDAY
And when he's not James and Brock and Dexter and most of the rest of the 2-D cast in the TV show and in "Pokemon: The First Movie," which opens Wednesday, he's Eric Stuart, the 3-D rock star.
As Eric Stuart, the real-life rock star, he's been touring the country opening for Peter Frampton, Ringo Starr and His All-Starr Band, Lynyrd Skynyrd, Jethro Tull, Julian Cope, Hall and Oates and Chicago.
His single, "One Good Reason," is getting airplay on a dozen radio stations around the country, including Long Island's WBAB/102.3 FM, and his band is getting ready to record a CD ­ the second produced by Frampton ­ this week.
"I like to keep the two sides of my career ­ voice actor and singer-songwriter ­ separate," says Stuart, who splits his time between East Hampton and Brooklyn Heights. "I'm a musician first. I just happen to be able to do some funny voices."
Funny thing is, when he first auditioned for Pokemon, he didn't even get a part. When he did get a callback, it was only for Brock. 'Then the guy that was doing James went out of town, and they had me impersonate him, but I started making James more flamboyant, so they kept me. Then they started giving me more characters."
It is the funny voices of all those Pokemon characters that have allowed Stuart to make his voice heard in the music world. "Music is one of the toughest worlds to survive in," says Stuart, who has received the John Lennon Songwriting Award and two Billboard Songwriting Awards. "I can't only be a musician because you get paid peanuts. And I can record the Pokemon voices when I'm on the road gigging."
Despite Staurt's efforts to keep things separate, James and Brock and Dexter do manage to get into the singing act every once in a while. James, for instance, does the vocals on the "Double Trouble" track on the TV show's CD "Pokemon 2.B.A. Master."
"When I sing as James I try not to do it well because if it sounds too good, it's not funny," Stuart says.
And for someone who has such a sultry, rockin' voice, that's not as easy as it sounds. "I like to do Brock because he is the most similar to me," says Stuart in his best Brock voice. "But James has so much more range," he intones in James tones. "He really goes over the top.. He dresses up like a woman a lot, and I have to do a falsetto voice," he says, his voice rising to reach the upper register. "It's a little outrageous, but the kids love it."
Of course, the kids, especially the teenage girls, also love his Eric Stuart voice, and when he and the Eric Stuart Band ­ Stuart (songwriter, lead singer, acoustic guitar); Bryan Gardenour (drums and percussion); Ben Mauro(guitar); and Mason Swearingen (bass and back-up vocals) ­ do their gigs, many of them on Long Island, they are mobbed my fans.
That Eric Stuart voice has won him some pretty famous fans, including Ringo, who has declared, "He's great," and Frampton, who has commented, "He's a terrific writer and singer and deserves to be heard."
Stuart and the members of his band are indeed being heard loud and clear: NBC, CBS and Fox and doing interviews with the band: ABC is running a segment with them tomorrow night; WB/Channel 11 is doing a special on them Wednesday; and Z100/100.3 FM is interviewing them live at 7 a.m. Friday. That's just this week's schedule; once "Pokemon: The First Movie" really gets going, they plan to be a lot busier.
Meanwhile, their recently launched Web site, www.ericstuart.com, has received more than 130,000 hits; a fan club is being formed; a newsletter, "Can't Get Enough Of It," the title of one of Stuart's songs, will be started next month; and they have making appearances in area Virgin Megastores and Tower Records.
Oh, yeah, Stuart and the band members are in negotiations with the Internet site eBay to auction themselves off to play a New Year's Eve gig to the highest bidder.
Aside from Pokemon and the rock concert and CDs, Stuart's voice can be heard as Gourry, the knight in shining armor in the Japanese animated video series "Slayers."
And next year, he'll voice the Pokemon TV series and the second movie, which goes into production in January. He's also finished voiceovers for a pilot for a TV show featuring the collectable character Hello Kitty and another for Hikerian, a cartoon about trains that transform into fighting robots.
"I would love to be working on a prime time show like "The Simpson' or 'King of the Hill,' that are geared more to adults," Stuart says. "Who knows, maybe I'll make a guest appearance on them as Eric Stuart."
If he does, you can be sure that James and Brock and Dexter and all of Stuart's other Pokemon pals will be tuned in.
By Nancy A. Ruhling
Newsday
DAILY NEWS
BATTLE OF THE ELEMENTS
Just this past Halloween, several trick-or-treaters On Staten Island were overjoyed when an adult gave them Pokemon cards instead of the traditional candy handout.
But it's the film that will take center stage this Wednesday. Here's how singer-songwriter Eric Stuart, the voice behind 40% of Pokemon, explains it:
"Anything that is a little creature is a Pokemon," says the 32-year-old musician, who has toured with Ringo Starr and Peter Frampton. "They are based on each element-water,electricity, rock and all that sort of stuff. What you try to do is use them in battle against someone else's Pokemon. Hopefully you chose the right element against their element to win and gain experience. With each level of experience they gain, they will evolve into the next level of that creature."
Stuart uses Squirtle as an example.
"Squirtle starts off as a little squirrel/turtle, and when he evolves he becomes Wartortle, and then when he gets even bigger, he becomes Blastoise. There are three evolutionary stages and that's why there are 150 different ones."
A sequel for the new film is already in the works. Stuart has signed on for the new flick, which begins post-production in January.
"The guys in the band think it's kind of funny because it's totally the opposite of my image on stage." He says.
"A lot of the kids come to my Web site (www.ericstuart.com) and email me and I always try to respond to them. Their parents come to my shows, and when the kids come along, they think it's cool that I rock."
"But," he says with a chuckle, "It's even better that I'm Brock."
Daily News
By Ed Tahaney
THE MUSKEGON CHRONICLE
MUSKEGON SUMMER CELEBRATION
The real treat here was the unannounced performance by the Eric Stuart Band. The band has been touring with Frampton (who produced their "Blue, Dressed In Black" CD) for a while. They deliver heartfelt songwriting and performing without the usual rock star posturing. These guys are tight.
Taking the stage with "Raise a Little Hell" the ninth cut on their CD, the band never let up. The bands songs are full of everyday observations and topics. Songs like "Can't Get Enough of It" and "Hole in the Head" had fans dancing and waving their arms in the air. Many songs from their CD beg to be in the background of some great 'road' movie. They WILL be big and we will all be trying to take credit for "discovering" them.
By John Merchant
CHRONICLE SPECIAL WRITER
HOUSE OF BLUES, CHICAGO, IL
If there was one spot this evening that no clouds could obscure, it was the opening set from the Eric Stuart Band. This New York-based quintet wowed the crowd from the moment they fired up the amplifiers, winning them over with their Hootie-meets-the-Jayhawks blend of country-dipped rock. The band played several numbers from their independent release Blue, Dressed In Black (which was produced by none other than Frampton himself), and with numbers like "Can't Get Enough Of It," "The Best Ones Get Away" and the title track, there is little doubt that this act won't remain an independent band for long. With excellent songwriting and an excellent mix (almost unheard of for an opening band, especially at this venue), one has to ask why these guys arn't famous yet.
Chistopher Thelen
SUMMIT DAILY NEWS
ERIC STUART BAND to rock
Breck's Sherpa & Yeti's
BRECKENRIDGE – Saturday marks the Breckenridge debut of New York City's Eric Stuart Band.
The band is touring to promote it's new CD "Blue, Dressed in Black" on it's own independent label, Widow's Peak Records. If you run out of money at the show, or have trouble finding the disc at your favorite record store, you can get it at ericstuart.com, a site that received over 600,000 hits in 16 months.
Eric Stuart first came to my attention in the summer of 1997, when as a solo acoustic act, he opened for Ringo Starr & His All-Starrs at Fiddler's Green, one of 28 tour dates.
Stuart walked out, dressed all in black, with black hair to boot, carrying his acoustic guitar to the microphone. I thought to myself, "Great, a Johnny Cash wanna-be." But when Stuart began to perform, I gave him my attention, and I'm glad I did. Stuart has a commanding powerful voice, and the dark, well-thought-out lyrics impressed me infinitely. Not since I saw Vinnie James in 1990 had I seen a solo acoustic artist win over such a large crowd. This compelled me to search out and buy his disc.
Later that night Ginger Baker joined the All-Starrs: (Jack Bruce of Cream, Peter Frampton of Humble Pie, Gary Brooker of Procul Harum, and Simon Kirke of Free and Bad Company) for a run-through of "White Room." When such legends of rock ask you to open their show, that is indeed a testament of your talent.
Word got out about these shows, and after the Ringo tour was over, Stuart was picked to open for the Paul Rodgers/Kenny Wayne Shepherd/Lynyrd Skynyrd North American Tour of 1997, which enabled me to catch Stuart a second time that summer.
Durring the All-Starr Band tour, Peter Frampton befriended Stuart, and Frampton happened to be looking for a new artist to produce. They both ended up in Nashville, where Frampton now resides, in a recording studio where they laid down six tracks, and picked four to appear on a demo CD ep in 1998. The demo was meant to entice a major label, but so far no one has made Stuart an offer he can't refuse, so Stuart has sold 15,000 copies of the demo disc on his Web site and at shows.
Frampton once again tapped the talents of Stuart in 1999, when he asked the band to lead off for him on his North American Tour. When the man who recorded one of the biggest selling live albums of all times asks you to tour with him, you say "yes."
Starting July 1st, the Eric Stuart Band was back on tour with Frampton until the past Monday, when they jumped off the tour to do a four-date Rocky Mountain Ski Tour that ends at Sherpa & Yeti's Saturday. Then it's back with Frampton for the last three dates dates of his U.S. Tour.
As far as CD's, Stuart released a rough-cut acoustically oriented disc, "Curiosity" in 1996. The 15-song disc is good, but I recommend his later works more highly. My personal favorite is 1997's six song ep, "Picture Perfect World." The title track opens with one of my favorite lines:
"Whoever said, "if you love somthing, set it free," probably died alone in some motel room." Dark, yes, but reality based wordsmithing? I think so.
Stuart cites some of his influences as: Bruce Springsteen, Cat Stevens, and Buddy Holly. Others I can see are Bob Seager, Jim Croce, and Harry Chapin. Stuart's songs are often story-like a la Bad Company's "Shooting Star."
For 2000, Stuart has collected the four songs from his excellent four-song demo ep, along with the two other songs from that Frampton produced Nashville session. He has added six more songs record in 1999 in New York City, produced by John Regan (Frampton's long-time bass player), and Harvey Jay Goldberg (who has produced projects by the Dave Matthews Band and Sting). Stuart has grouped all 12 songs together and put it out as his third official disc entitled "Blue, Dressed in Black", which I also recommend, but since I've only heard it twice so far, I still prefer "Picture Perfect World." I have a feeling the new disc will grow on me.
The Eric Stuart Band has been together since 1998 and consists of Bryan Gardenour on drums and Mason Swearingen on bass. Various guitarists have contributed to Stuart's three studio discs, and the band toured as a four piece in 1999. For 2000, Stuart has added two permanent guitarists, Phil Nix and Benny Landa, so that the live show will have a bigger 'rock' feel. In fact, when pressed for a description on the band's sound most people use the oxymoron 'brand new classic rock." Go figure.
The Rock 'n Roll Soldier
Special To The Daily