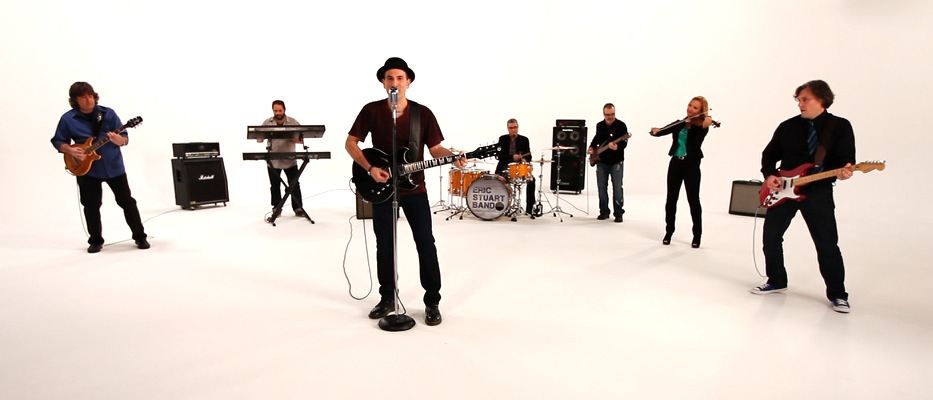 ERIC STUART lead vocals, guitar MARIA CONTI violin, vocals JOHN FOX bass, vocals
CHAS HOLLAND lead guitar KEVIN MERRITT keyboards, vocals PHIL NIX lead guitar, vocals
JOE "PAPAJO" PALMACCIO drums, percussion
MARIA CONTI

Violinist, Maria Conti received her Master's degree from the Manhattan School of Music. Maria performs with the Metropolitan Opera Orchestra and has previously played on other Broadway shows such as the Lion King, Newsies, Annie and Porgy and Bess, and Soul Doctor. She has collaborated with popular artists such as Kelly Clarkson, Taylor Swift and Jessica Simpson and has performed for the Country Music Awards. Lipstick & Barbed Wire is her 4th album with the Eric Stuart Band.

 

 

JOHN FOX

Bassist and vocalist John Fox grew up in a family full of talent, playing just about everywhere in Middle TN. In the 1990's, he was a part of the successful band Southern Heart as they toured the southeast region. He has been a part of the music industry for quite some time and performs with numerous groups around the Nashville area, all the while retaining a full-time position with Sony Music. Elvis, Vince Gill, and Steve Perry are just some of his musical influences. John's strong harmonies are a perfect blend with Eric's lead vocals while his solid melodic playing keeps ESB rocking.

 

 

CHAS HOLLAND

Guitarist Chas Holland grew up in the Washington DC area. At 16 he was just another crazy, denim and leather clad, "rebel without a car" who wanted crank the guitar to "11" and make people's faces melt. Then Chas met an amazing guitarist named Chuck Underwood, and he basically changed Chas' life. Chuck introduced him to the world of jazz guitar, turning me on to players like Pat Martino, Wes Montgomery, Joe Pass, Mike Stern and Pat Metheny. In addition to guitarists he introduced Chas to the music of other greats of that genre like Bill Evans and Charlie Parker. Chas started to realize that there was more to music than just screaming decibels – not that there's anything wrong with that!




Chas has a Bachelors in Music and received a scholarship to attend the University of North Florida where he studied jazz guitar performance with the great Jack Peterson. Jack was one of the original founders of the guitar program at Berklee. After college, Chas returned to the DC area, where he taught and played gigs of all types. A few twists and turns led him to Connecticut where he was fortunate to meet the late, great guitarist Joe Beck. Joe encouraged Chas to search deeper into music and realize a sound he could call his own. Chas now lives in Nashville TN.




 

KEVIN MERRITT

Keyboardist Kevin Merritt got his degree in Music Composition at UC Berkeley and then attended UCLA's Film Scoring School. He moved to New York in the late 90's for the theatre business, working with with Gabriel Barre and Andrew Lippa on MTC's Wild Party.  Shortly after he became Associate Director for the National Tour of Rogers and Hammerstein's Cinderella with Eartha Kitt.  He has over 10 years experience in live television on such shows as the Tony Awards, The 2009 Neighborhood Inaugural Ball,  Farm Aid, HBO's Def Poetry, CBS's 75th Anniversary, VH1's Hip Hop Honors and the Super Bowl Halftime Show (including the infamous 2004 Janet Jackson "wardrobe malfunction"). He is currently developing a new concept show with the historic Apollo Theatre and collaborating with Kevin So and David Henry Hwang as the writer-director of the new musical Great Wall. Kevin has been with ESB since the early days and his keyboard playing and skill as both a horn and string arranger has come in handy on many an ESB album.


 

 

PHIL NIX

Lead guitarist Phil Nix was born and bred in New York City. His mom was a fan of show tunes and his older brother was a huge Beatle's fan. This provided for a mix of influences that effects every note he plays to this day. Phil's musical training started when he picked up his brother's guitar and learned Beatle songs completely by ear. Years later, he attended the Westchester Conservatory of Music in White Plains, NY. There he received his Associate Degree in Jazz Improvisation and Harmony. After playing in road bands for a number of years, Phil got an audition with the legendary Ronnie Spector of The Ronettes. The result was over three years of touring with the original bad girl of rock and roll. Phil's original audition with ESB in the spring of 2000 did not go as planned where he came in 2nd place. A special moment came the following summer when Eric and bassist Mason Swearingen got him on a conference call, asking if he wanted to go on tour with ESB, supporting Peter Frampton. Since joining the band he's never looked back. When he's not rocking and playing lead guitar with The Eric Stuart Band, he's working on live TV and awards shows with fellow band member Kevin Merritt. Together they have produced many Emmy Award winning television for CBS, NBC, MTV, VH1, Comedy Central, Food Network, BET, HBO and others. Asked about his 12 years recording and touring with ESB, Phil said this, "Recording and creating in the studio environment is awesome and inspiring , but there is nothing like playing for a live crowd with ESB. I'm excited to see what's next for the Eric Stuart Band. Hopefully the fan base, old and new, will help guide the course."

 

 

JOE PALMACCIO

Joe "PapaJo" Palmaccio has been rocking the big beat with Eric Stuart Band over the past two years.  Originally from Chicago-land, his musical roots run deep.  Influences include drum legends Bonham, Starr and Bellson to present day skinsmen Abe Laboriel Jr., Ronnie Vannucci and Stanton Moore.  Whether live or in the studio PapaJo moves easily from the sweep of a brush, to the thundering crack of snare. Swinging his band and the audience on his glittering Ludwig drum kit is priority one for this keeper of the pocket.